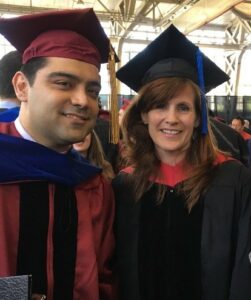 I firmly believe that mentoring is another important aspect of teaching—particularly for those students that belong to traditionally under-represented groups in the economics profession such as women, people of color, and those coming from low-income households. I have formally mentored seven Ph.D. students (including two women) and served on five dissertation committees, two as the chair. A key aspect of mentoring is helping students complete a high-quality dissertation in a timely manner but also using our professional networks to ensure top placements. I have applied these same principles of mentoring to the master's level as well. I have advised dozens of MPA/MURP students and have placed students in a variety of positions with government agencies, nonprofits, and consulting firms.
PHD STUDENTS
Committee Chair
Urbashee Paul (Economics), in progress [webpage].
Mark Gooley (Economics), in progress [webpage].
Shahriar Sadighi (Economics 2016), Amazon [webpage].
Committee Member
Laiyang Ke (Public Policy), in progress.
Shiqin Liu (Public Policy), in progress.
Richard Paulsen (Economics 2019), University of Vermont [webpage].
Rachel Sederberg (Economics 2019), Bowdoin College [webpage]
Michael Gleba (Public Policy 2018), City of Newton [webpage].
STUDENT TESTIMONIALS
"Professor Modestino is one of the best teachers I've had at Northeastern so far. She is incredibly experienced and intelligent and integrates her life experiences working in economics into the course. She provides extremely interesting articles for us to read on blackboard, makes us think critically through policy exercises, is extremely organized and thorough, provides examples, and sets her students up for success. If I were Northeastern, she would be promoted, tenured, given a raise, and praised ceaselessly" – ECON 3410
"Professor Modestino is the most competent, organized, and thorough professor I have had after four and a half years at Northeastern. Every element of this course felt purposeful and kept me engaged in the material, and lectures were always designed in a way that made class-time extremely efficient and interesting. She is always clear about what we would be discussing and why, which is really important to me as a learner." – ECON 3410
"I have recommended her course to many of my schoolmates. Truthfully Professor Modestino is the best professor I've had at Northeastern so far. Her instructions are clear, you know what's expected of you, and she is an incredible speaker, she has very strong communication skills and displays information in a way that makes sense." – ECON 3410
"The true strengths of this course were in the most difficult aspects: reading the difficult microeconomic theory, learning how to make graphs that support issues in the context of those theories finally learning how to mold contemporary policy issues into an economic context. The work products: a research paper, a policy brief, a presentation and an op-ed were extremely helpful to me as a developing policy professional and I will be able to use them as writing samples in the future." – LPSC 6313
"Dr. Modestino is an astounding professor with excellent teaching skills. Not only did we learn how to apply economics to certain topics discussed in class but she cultivated a framework for assessing all policy issues through the lens of economics. She is enthusiastic and creates a positive environment for learning." – LPSC 6313
"Professor Modestino is a fantastic professor—extremely knowledgeable and made what is usually a dry topic into a very tangible, digestible topic. She was always able to answer tough questions and provide examples, making the lectures very relevant. Coursework outside of class was helpful for applying concepts learned in class." – LPSC 6313
"I have taken many classes at NU, both undergrad and graduate and I cannot recommend Prof. Modestino strongly enough. If I had the opportunity to take another course with her, I would." – LPSC 6313
"I have never felt such an increase in basic knowledge from one course. I really feel I am able to speak about certain policy topics of my interest with greater power and effectiveness due to this course." – PPUA 6502
"This course was one of the most challenging and enriching courses I've taken in the MPA program. I learned a lot and almost wish it were a two-semester course because I wanted to learn more." – PPUA 6502
"She made herself extremely available for consultation outside of class and even official meeting hours, regardless. She is extremely enthusiastic and displays passion for economics which is excellent and I would say it is infectious (her enthusiasm). She displays theoretical knowledge and practical knowledge which is valuable to explain how a theoretical model applies to real situations and what are the implications of enforcing different perspectives when approaching policy design. She is also a good lecturer able to communicate well with the class and even crack jokes, which helps everyone stay alert during late classes." – PPUA 6502
"Professor Modestino is passionate about economics and empowering the next generation. She was always willing to answer emails at anytime, her door was always open and she possesses a can-do spirit that was extremely beneficial for me as a student. I really enjoyed how she would draw on her experiences at the Fed to describe some of our concepts." – PPUA 6502
"The professor was perfect for this course. Her lectures were engaging and broke down difficult topics into easy to understand pieces. She uses great examples that helped me to learn the material. She is also very accessible outside of class to answer any questions or explain anything that was confusing. I felt Professor Modestino was a very effective professor for this course and I learned a lot because of her." – PPUA 6502
"I really enjoyed this professor. She is not only extremely smart, but also experienced in both the field of economic practice, but also its pedagogy. She is able to make learning both informative and funny, something most professors can only sufficiently do one or the other. Her expectations were not too extreme but were also challenging enough to force us to learn every single week." – PPUA 6502
"Excellent delivery and ability to listen and respectfully respond to all students. Alicia provides strength-based feedback on all assignments, is a fair grader, and is an immensely congenial and interesting professor to have in class! I truly enjoyed taking this course and know that students for years and years (hopefully decades!) will enjoy this stimulating yet fun course experience!" – PPUA 6502
"Modestino is very knowledgeable in this subject and is able to teach it very well. I like that she asked us for a mid-term evaluation and actually followed through with our feedback and changed the course for the better, I felt like my input was actually taken into account." – ECON 3410
"The research paper, policy brief, and op-ed were really beneficial. By focusing on the same topic I learned a lot about an area I was interested in. I also learned how to write for different audiences and how to critically analyze/evaluate ideas." – PPUA 6502
"The course offered peer-to-peer interaction every week. This bolstered the course material through student engagement and differing perspectives. The integration of the discussion board assignments guaranteed participation and active responses." – PPUA 6502
"The policy debates are another strength that forces us to objectively argue points from an economic standpoint even if it doesn't align with our own political beliefs." – ECON 3410
"Professor Modestino is engaging and clear, and she cares a lot about the success of her students. Her experience in the working world of economics allows her to bring relevant and thought-provoking experiences to the classroom." – ECON 3410